Regular price
$38.99 USD
Sale price
$16.99 USD
Unit price
per
Sale
Sold out
Share
View full details
Fast Defrosting Tray Thaw Frozen Food Meat Fruit Quick Defrosting Plate Board Defrost Kitchen Gadget Tool


Introducing the Fast Defrosting Tray, the ultimate kitchen gadget tool for quick and efficient thawing of frozen food! With its special environmentally friendly materials and processes, this defrosting plate allows you to thaw your frozen meats, fruits, and other foods in no time.

One of the key advantages of this thawing plate is its ease of cleaning. Thanks to its special process, the plate is easy to clean and is non-stick, preventing any oil residue from sticking to it. This not only saves you time and effort but also ensures a hygienic thawing process.

Not only is the Fast Defrosting Tray easy to use, but it also helps you save on electricity and promotes environmental protection. You won't need any other investments or additional appliances to thaw your food. This means you can save on water and electricity consumption, making it an eco-friendly choice.

The principle behind the Fast Defrosting Tray lies in its special alloy composition. This alloy has a thermal conductivity that is 20,000 times higher than that of ordinary metals. This high-speed heat exchange allows frozen foods to achieve the fastest natural thawing effect, saving you valuable time in the kitchen.

One of the major advantages of using this thawing plate is its speed and efficiency. It can effectively save you a significant amount of time compared to other thawing methods. For example, the thawing speed using the Fast Defrosting Tray is 5.6 times faster than using common ceramic ware. While ceramic wares take approximately 91 minutes to thaw, the rapid thawing plate can achieve the same result in just about 16 minutes.

Aside from its speed, the Fast Defrosting Tray also helps maintain the original taste and nutrition of your food. It locks in the nutrition and gravy within the meat, reducing the overflow of juice when thawing and retaining the deliciousness of your food.

It's important to note that due to the use of special environmental protection materials, the price of the Fast Defrosting Tray may be slightly higher compared to other thawing options. However, the benefits it offers in terms of speed, efficiency, and food preservation make it a worthwhile investment.

Defrosting frozen food has never been easier with the Fast Defrosting Tray. Whether you need to thaw chicken breasts, steak, pork chops, lamb chops, or even smaller food items like burgers, sausages, prawns, and bacon, this tray can defrost them within minutes. Depending on the thickness of the food, you can expect defrosting times ranging from 30 to 60 minutes.

Unlike microwave ovens that partially cook the food during the defrosting process, the Fast Defrosting Tray does not use any chemicals or electricity. This ensures that your meat is defrosted safely and quickly, without compromising its taste or texture.

Another advantage of the Fast Defrosting Tray is its cool-touch feature. Throughout the defrosting process, the tray stays cool to the touch, eliminating the need for pre-heating or using hot water. Simply place your frozen food onto the tray, and it will defrost up to faster than at room temperature.

In terms of design, the Fast Defrosting Tray features a convenient rectangular shape and is made of high-quality aluminium. This material ensures durability and corrosion resistance, giving the tray a long service life.

Say goodbye to long waiting times for your frozen food to thaw. With the Fast Defrosting Tray, you can enjoy quick and efficient thawing, while preserving the taste and nutrition of your food. Upgrade your kitchen with this innovative kitchen gadget tool today!




Through the contact of food with thawing plates using special environmentally friendly materials and processes, frozen foods are quickly thawed

Easy to clean! The special process makes the thawing plate easy to clean, non-stick oil

Easy to use, saving electricity and environmental protection! No need for other investment, save water and electricity

Principle: The thawing plate is a special alloy with a thermal conductivity of 20,000 times that of ordinary metals, achieving high-speed heat exchange, allowing frozen foods to achieve the fastest natural thawing effect

Advantages: speed, short time, can effectively save the first choice time, and can maintain the original taste and nutrition of food, health and hygiene. Corrosion resistance, long service life

Disadvantages: Due to the use of special environmental protection materials, the price will be slightly higher

Thaw plate - thawing plate compared with other thawing methods

The thawing speed using the quick thawing plate is 5.6 times the thawing speed of the common ceramic ware.

Note: The ceramic wares are thawed for approximately 91 minutes, and the rapid thawing plate is thawed for approximately 16 minutes

By thawing the rapid thawing plate, nutrition and gravy can be firmly locked in the meat, reducing the overflow of juice when the food is thawed, and retaining its deliciousness



Defrost frozen food within minutes - Thaw chicken breasts, steak, pork chops, lamb chops and more within 30-60 minutes depending on thickness

Defrost smaller food such as burgers, sausages, prawns and bacon even faster!

Absolutely no chemicals or electricity is used. As opposed to microwave ovens that partially cook the food during the defrosting process, the Tray defrosts the meat safely and quickly

The Magical Defrost tray stays cool to the touch throughout its use, no pre-heating or hot water is required. Simply place frozen food onto the tray and it will defrost up to faster than at room temperature
Shape: Rectangle
Material: Aluminium
5910219882652--4000723983861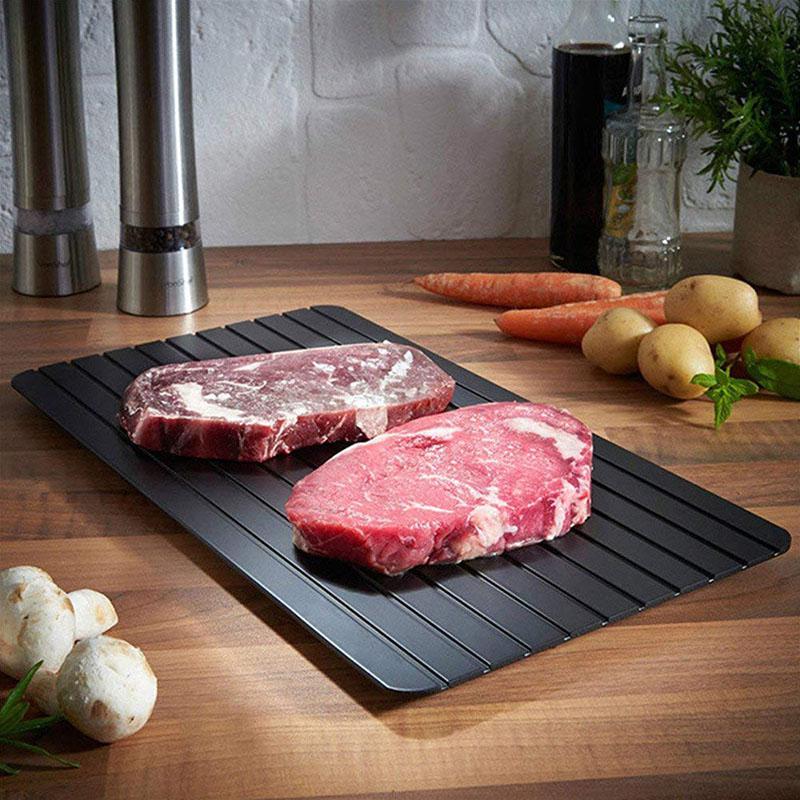 Free Shipping

Shipping will be calculated in real-time at checkout. Orders over $25 ship for FREE For VIP Members. Becoming a VIP member is very simple, you just register yourself on our mailing list. Be the first to know about new collections and exclusive offers and Free Shipping.

Please insert your best e-mail address and cell phone number on your order so we can provide you with all the necessary information.

As you may know, different computers display colors differently. The actual item color may vary slightly from the following pictures on your display.

For products with applicable measurements please check the size chart carefully before placing an order, if you do not know how to choose the size, please contact our customer service. If you could not find the chart please contact us Choose the larger size if your size is between two sizes.

We often experience spikes in orders during holiday periods

During holidays shipping may take longer than usual